Increase production capacity and be more efficient and profitable with Inflow Corporation
Inflow Corporation is an engineering firm that specializes in Fluid System Optimization. With decades of industrial engineering experience, Inflow works closely with different utility and state rebate programs (often called DSM - Demand Side Management or CIP - Conservation Improvement Programs) to help customers maximize their rebate and reduce energy consumption so they can be more profitable.
Equipment sales professionals and installers, other engineering consultants, rebate program administrators, and customers agree that Inflow Corporation is flexible, transparent, and trustworthy.  
Working with Inflow Corporation is as easy as 1, 2, 3. See how.
-----
Peter Vinck is Founder and Senior Engineering Consultant at Inflow Corporation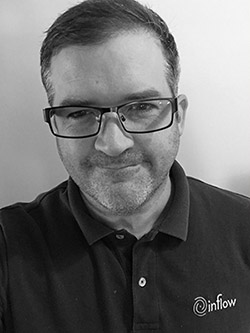 He has been an industrial system engineer for over 19 years, gaining specialist recognition from the Department of Energy as a Compressed Air, Pumping and Fan Systems expert. As a Senior Energy Efficiency Engineer for Xcel Energy he was tasked with calculating savings for energy efficiency projects, along with the monitoring and verification of those cost saving measures. In doing so, Peter gained vast experience in working with customers to understand the options they have within their industrial systems and designing programs to help customers reduce costs.  Peter has also worked for several industrial factories, including a Fortune 200 company selling industrial equipment, performing energy studies on industrial systems.   He is a graduate of Iowa State University in Mechanical Engineering.